NBA Trivia Answer and other stuff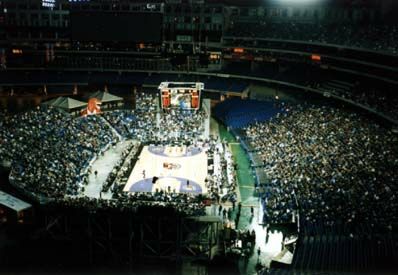 First, if you haven't heard this week's show, check out the blog entry below or go
here
where this week's show is posted.
What NBA player has won the most MVP awards?
Kareem Abdul-Jabbar
won the Maurice Podoloff Trophy a record 6 times.
Next, check out the first picture of this
story
from the NY News. Why does Vince have such a huge smile after a loss to the Raptors? Ron Antonelli took this great shot. You can check out more of his work on the NY News or at his
website
.
Some Raptor History
Remember 1995? The Toronto Raptors finished their first year in the league with a 21-61 record and their home games were played in the cavernous Skydome. Who has a better picture of the makeshift stands that surrounded the court, than the one above? Send it in or a link and we'll post it on the blog.
Labels: ball, basketball, blog, bosh, facts, hoops, NBA, playoffs, raps, raptor, raptors, round ball, sports, TO, Toronto Raptors, trivia